Prenuptial and Postnuptial Agreements
Schaumburg Prenuptial Agreement Lawyer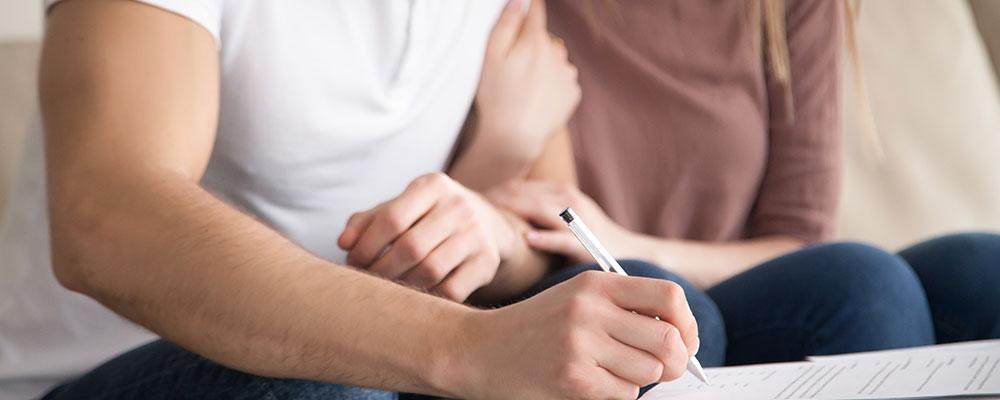 Rolling Meadows Attorney Explains How to Protect Your Assets with a Postnuptial Agreement
If you and your future or current spouse have any of the following concerns, you may want to consider entering into a prenuptial or postnuptial agreement:
You want to protect real estate

that you already own, such as your home or a family summer cottage, from the risk of being awarded to your spouse in the event of a divorce or death.

You already own, or are in the process of building, a business that you want to ensure remains your sole and separate property, and that it does not become marital property that could be fully or partially awarded to your spouse in the event of your death or divorce.
One of you has significant debt, such as student loans or credit card balances, and you want to ensure that those debts remain the sole responsibility of the person who incurred the debt.
There is a significant imbalance between you and your partner in age or wealth, and you want to create a plan that provides reasonable financial protection for both of you in the event of death or divorce.
You plan to be, or already are, a stay-at-home spouse/parent, while your spouse has substantial earnings. In the event of a divorce, you want a commitment that you will be provided with a specific level of financial support so that you are not subject to the vagaries of local law and a judge's discretion.
You have assets that you want to specifically protect for the benefit of children from a prior marriage.
At Village Law Offices LLC, we understand that it may seem unpleasant or even hurtful to raise the issue of a prenuptial or postnuptial agreement with your spouse or to have your spouse suggest a prenup to you. Yet, planning ahead for future contingencies is a reasonable and mature thing to do. We can help you manage this in a positive way and handle the necessary discussions in an amicable fashion so that your relationship is strengthened rather than damaged by the process.
At Village Law Offices, you will receive the personal attention of attorney Edward D. Siebert, who has more than a decade of experience in handling sensitive matters of family and contract law in Illinois. Having been born, raised, and educated in Illinois, you will find attorney Siebert to be approachable and supportive.
What Is a Prenuptial or Postnuptial Agreement?
A prenuptial agreement is a contract that two parties enter into prior to marriage, while a postnuptial agreement is a similar contract created after a couple is already married. Both types of agreements allow you to preplan and settle issues that could otherwise become costly and protracted legal disputes in the event of death or divorce. Many people view a prenup as a type of insurance against future risks. Other ways to protect your assets include creating a will or trust.
How to Ensure a Valid Premarital or Postnuptial Agreement
When we work with you to execute a pre- or postnuptial agreement, Village Law Offices will ensure that:
The terms of the agreement are written in a way that the courts will consider to be valid and enforceable.
Each party has sufficient knowledge of the other party's debts and assets.
Each party has received the advice of their own lawyer to ensure that they understand the implications of the agreement.
The agreement, along with any future amendments, is signed voluntarily by both parties.
Prenuptial Agreements Lawyer Serving Itasca and Palatine
Village Law Offices LLC offers you the personal service of a local attorney who knows your community. From his Schaumburg office, attorney Edward D. Siebert serves individuals and families in the northwestern suburbs of Cook County and DuPage County, including the villages of Schaumburg, Arlington Heights, Elk Grove Village, Hoffman Estates, Itasca, Mount Prospect, Palatine, and Roselle and the city of Rolling Meadows. Contact attorney Siebert at 847-656-3600 for a free consultation in most cases.